Kyoto, Osaka, and Nara are all popular tourist attractions in Japan, and the "Aoniyoshi" sightseeing train connecting these three prefectures will debut on April 29, 2022. This sightseeing train is named after "Oo Ni Yoshi," a Japanese pillow word used in the ancient city of Nara, which is home to numerous World Heritage sites. It is expected to appeal to foreign tourists after the Coronavirus pandemic as well as those who consider the travel itself as the purpose of their trip.
Directly Connects Osaka-Nara-Kyoto
One of the features of the "Aoniyoshi" is that it connects Osaka, Nara and Kyoto without any transfers. All of these areas are representative of Japan's history, culture, and cuisine, making them ideal for travel and for enjoying the scenery from the train windows.
The operations schedule has been planned as follows: In the morning, the train will run from Osaka Namba to Kyoto via Kintetsu Nara, make two round trips between Kyoto and Kintetsu Nara, and then return from Kyoto to Osaka Namba via Kintetsu Nara. "Aoniyoshi" will make stops at 9 stations: Osaka Namba, Osaka Uehonmachi, Tsuruhashi, Ikoma, Gakuenmae, Kintetsu Nara, Yamato Nishioji, Kintetsu Tambabashi and Kyoto.
Train Car with Shosoin Temple Motif
Inside the train, the seats are arranged in two rows to allow passengers to relax and enjoy the trip. There are two types of seats available: twin seats for two people and salon seats for three to four people, allowing you to choose the one that best suits your needs. The seats are like sofas, allowing for a comfortable travel experience.  It has 84 seats, which is about one-third of the number of seats in existing express trains, making it comfortable for travel with plenty of room to relax.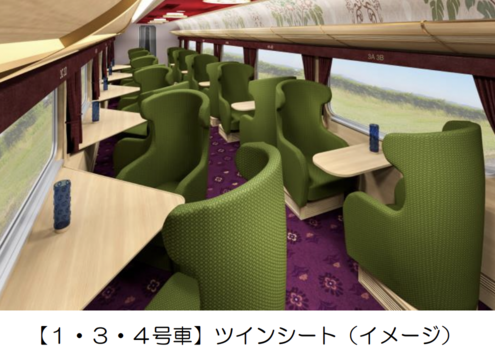 You will also be able to feel the history and culture from the moment you board the train, which is designed with designs such as the Tenpyo pattern based on the treasures of the Shosoin Temple, a perfect motif for touring the ancient capital. The exterior is painted with purple metallic paint, which was considered a noble color in the Tenpyo period, and decorated with Tenpyo patterns.
There will also be a sales counter that will allow you to have a quality trip while enjoying drinks and snacks.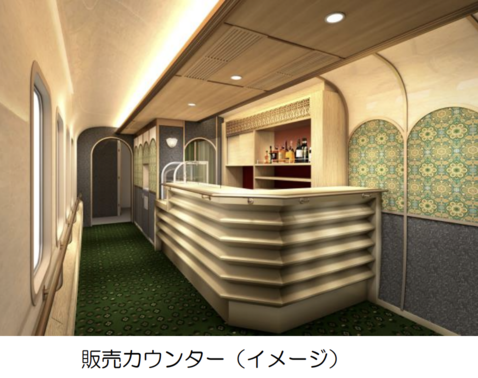 The "Aoniyoshi" is expected to be popular
The "Aoniyoshi" will debut in April but has already started to gain attention from travel enthusiasts and trainspotters. 
The debut of this new sightseeing express train has been eagerly awaited, as it is perfect for families and groups of friends who want to enjoy the comfortable 80 minute trip from Osaka Namba to Kyoto Station.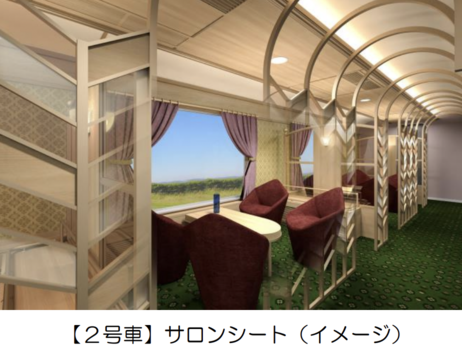 We recommend you to take this train if you are travelling in the Kansai region, but note that all of the seats on the "Aoniyoshi" have to be reserved in advance. Check out the Kintetsu Railway website for ticket information.
Kintetsu Railway Website https://www.kintetsu.co.jp/