For this article, I travelled alone to an unexplored region of Nara, "Tenkawa Village," by using the "ImaNara. Campaign", which can be used by all Nara residents. In Japan, because the tourism industry has been severely damaged by the new coronavirus pandemic, every region has started its own GoTo Campaign, which was already being announced in July.
You, who are wondering whether to travel now!
How about a relaxed "unexplored solo trip"?
Previous Article: Can foreigners use it? "Go To Travel Campaign"
What is the "ImaNara. Campaign"?

The "ImaNara. Campaign" can be used by Nara residents only and offers up to 70% discounts on accommodation expenses for their trips. The purpose is to both rediscover new local touristic spots and expand tourism consumption by using travel plans that include local inns, all in the Prefecture of Nara.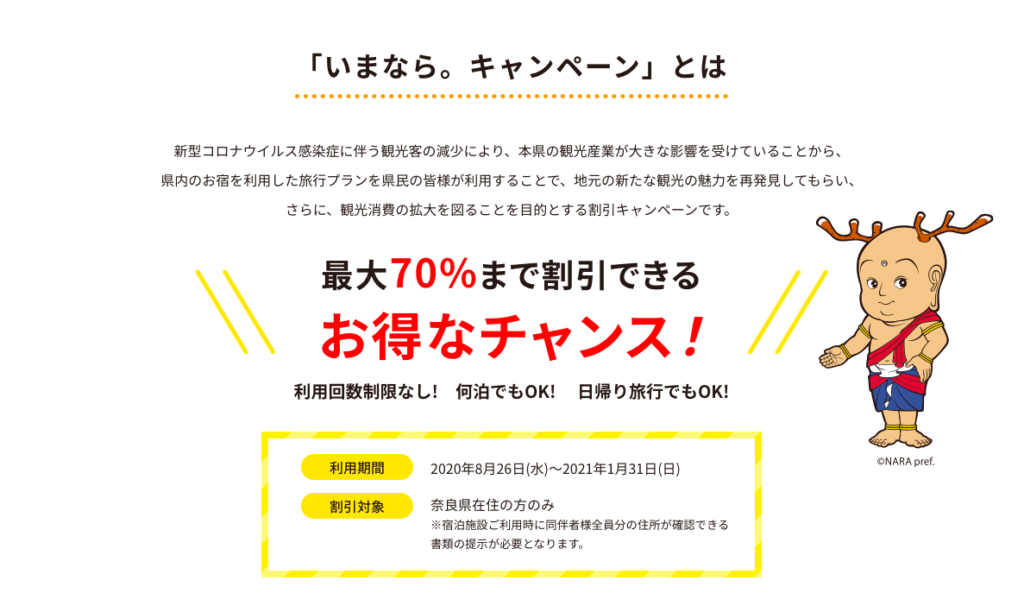 The discounted amount varies depending on each coupon, as well as the set number of users and the conditions of such amount:
Example: Conditions for a 20,000 yen discount coupon
▪Number of guests: 1 adult or more per room
▪Amount: from 14,000 yen (tax included) per room
If you want to stay overnight for a good price, make a list of the accommodations and summarize the total price for each plan! By doing this you'd easily see how much you will get as a discount at the moment of reservation. It's very convenient!
How to use discount coupons
Coupons can be obtained at convenience stores or online.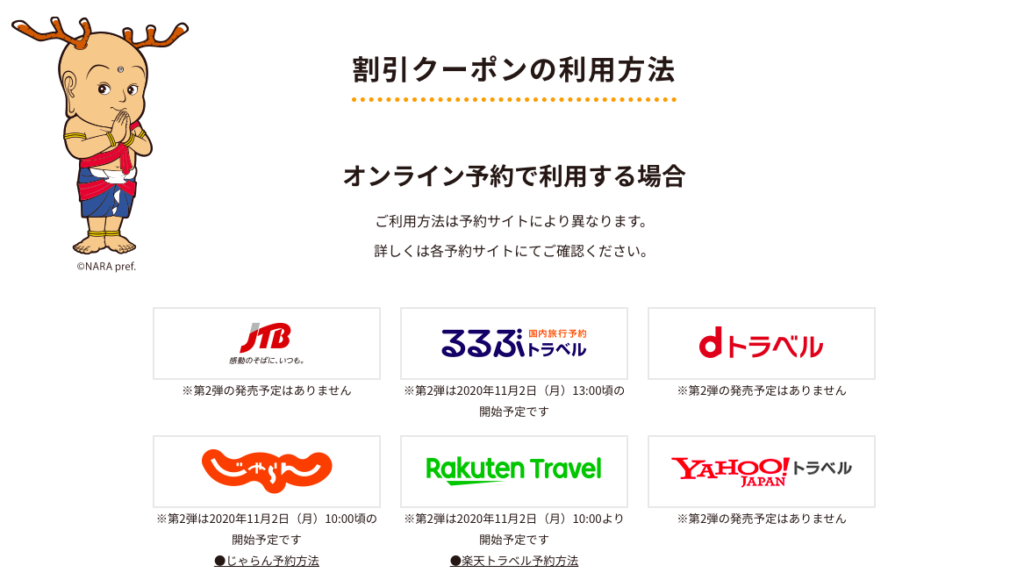 There are three ways to book your accommodation:
 If you get a coupon at a convenience store →

Book directly at the accommodation

by phone or book through a

travel agency

If you get a coupon online →

Book online
Online reservations are definitely recommended. (Author's personal opinion)
If you complete all the personal identifications and the payment procedure online, on the day of your arrival everything will proceed smoothly. On the other hand, when making a reservation at a travel agency, it is not rare to see "GoTo Campaign" customers all lined up in front of the store. This is why my recommendation is to do everything online!
How convenient was the trip?
Let's talk about money: was my discounted trip worth doing?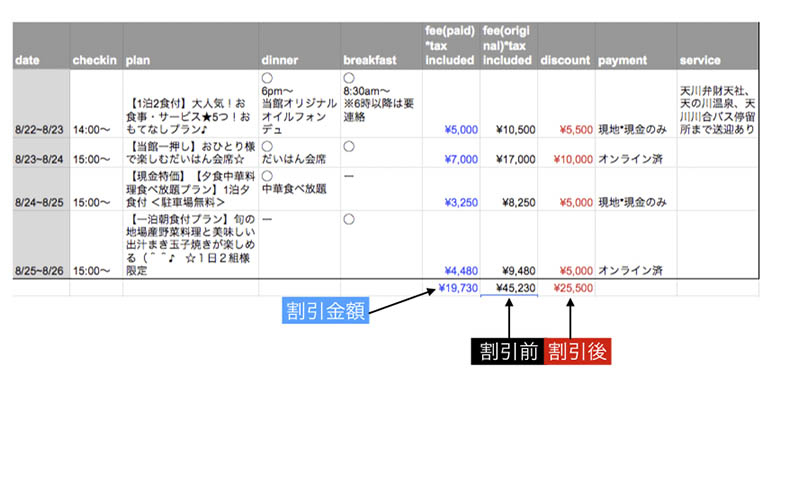 The difference before and after the discount was about 20,000 yen. In other words, I could enjoy a 45,000 yen trip for just under 20,000 yen! Moreover, I went sightseeing just after the Golden Week break, and the village residents, because there were so few tourists left, treated me like a Goddess. Lol
Now I will introduce Tenkawa Village.
When you go to Nara, take some time to heal from your worries immerging yourself in the nature of Okuyamato and the hospitality of its villagers.
Tenkawa Village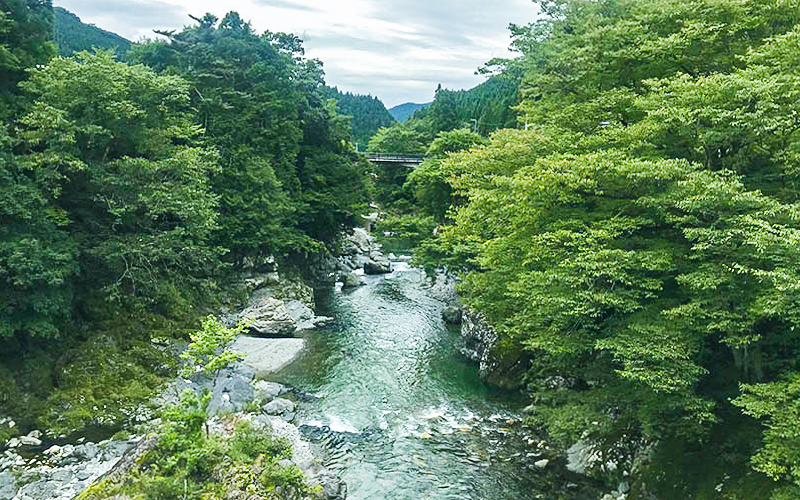 Around 1/4 of the area of ​​Tenkawa Village is located in Yoshino Kumano National Park and it is the highest village with most headwaters in the Kinki Region. It has been selected as one of Japan's 100 most famous mountains, 100 most famous water sources, 100 most famous waterfalls, and there are many things to see as well!! The village has a high altitude and the temperature is about 5 degrees lower than Osaka city; for this reason, the climate created by the temperature difference made this place as one of the most popular scenic spots for autumn leaves.
Tenkawa Village official website
The village with the most accommodations in Japan!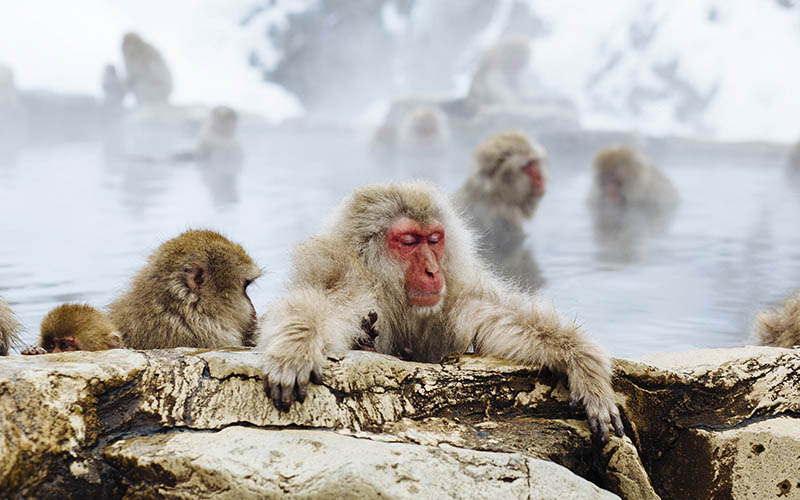 This is probably because many visitors aim for healing their bodies in some secluded hot spring such as Dorogawa Onsen, Tenno Kawa Onsen, and Mizuha no Yu after practicing some mountain spiritual training.
My five-day-stay was completely unplanned, but by gathering information I collected from listening to the locals, I was able to walk around the main touristic spots in the Dorogawa area in just one day ♪
My favourite accommodation for this trip. "Minshuku Aoba"
Not too formal and with a more "human" touch in its service, staying here felt like "home-staying" at my grandma's house. The meals are made with local wild plants and both locally grown/produced vegetables and other ingredients, and moreover, you can feel the innocent purity of the couple cooking your dishes. The husband can speak English, so don't worry!
Here are things you need to know: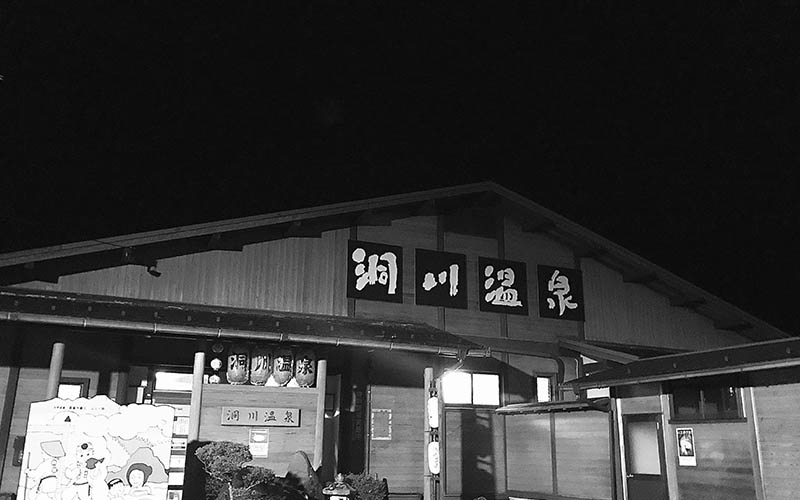 1 Shops are closed on Wednesdays and Thursdays.
For some reason, most shops in Tenkawa Village are closed on Wednesdays and Thursdays. Consider this in advance to avoid useless disappointments once arrived!
2 There are no restaurants for dinner
Despite being a tourist destination, in the Dorogawa area, there are almost no shops open at night. The only shop who normally works at that time is Chinese restaurant Shoju. There is also another shop, but its opening hours very much depend on the owner's mood… For this reason, please include dinner to your inn's reservation plan or remember to buy it at the village shop (until 18:00!) 
3 Do not do mountain-climbing if it rains
There are many mountaineering routes, from beginner to advanced, so if you decide to go, be sure to check the rules of each route in advance.
In this article I tried to summarize my unexplored solo trip through the usage of a local tourism campaign, but how was it? The room rate was less than half of the original price, there were few people, and I was able to enjoy both Silence and Nature!!
If you want to completely isolate yourself from the outside world, I suggest you go during weekdays. Everyone wants to go to an unexplored region to take a break from their daily routine. Try to find your own to go, too!