Hi, this is jimomin's Director Snowmonkey here.
This is No.5 of the JIMOMIN100 Lifestyle Encyclopedia, where I will introduce to you Chris from Australia who runs a cafe in Nara! In this chapter of jimodex we are exploring working in Japan as a foreigner, and what kind of "life work" balance foreign workers face. I hope this article will be interesting and helpful to those who want to work in Japan in the future and those who want to open their own shop!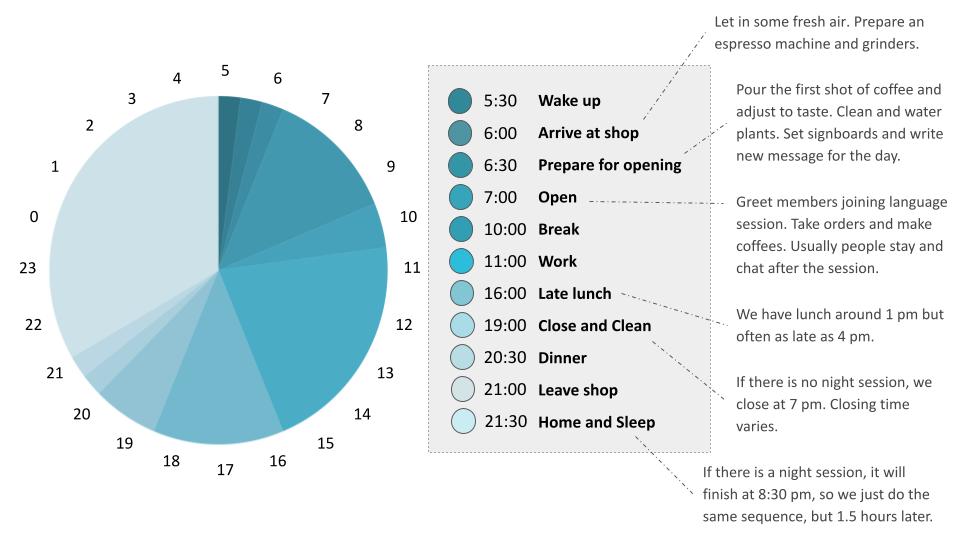 As you pass through the tourist laden, east-facing shopping street in Nara, you will arrive at Mochiido Town Center, connected to Naramachi. "Mochiido Town Center" is filled with long established shops and a wide array of intriguing old Japanese houses that have been converted into restaurants and shops.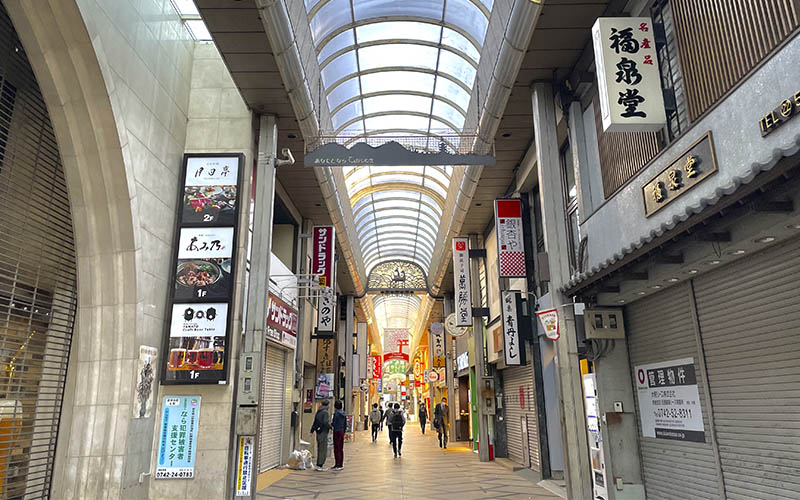 After a short walk though this street you will find a red sign marked "Akatombo Coffee" offering Melbourne-style coffee. Every day writes a message outside their shop that makes you feel good inside 🎵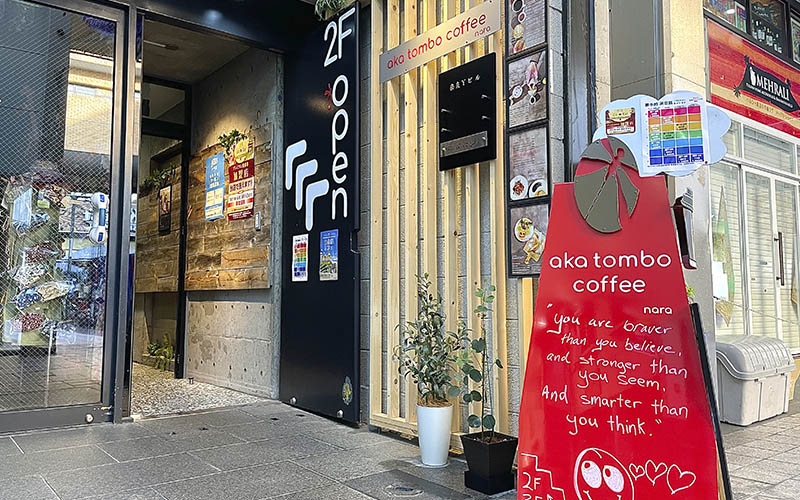 The three-story building, which was designed and renovated by a former Australian master furniture designer, has a cafe on the second floor and a space to do workshops and learn English on the third floor. There are three spaces for two people to work together, creating a calm, safe environment to learn English.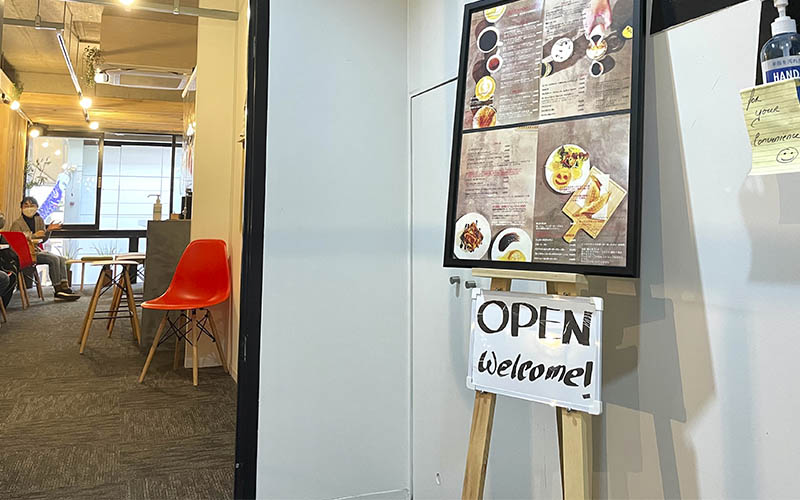 Why did you want to open a cafe in Nara?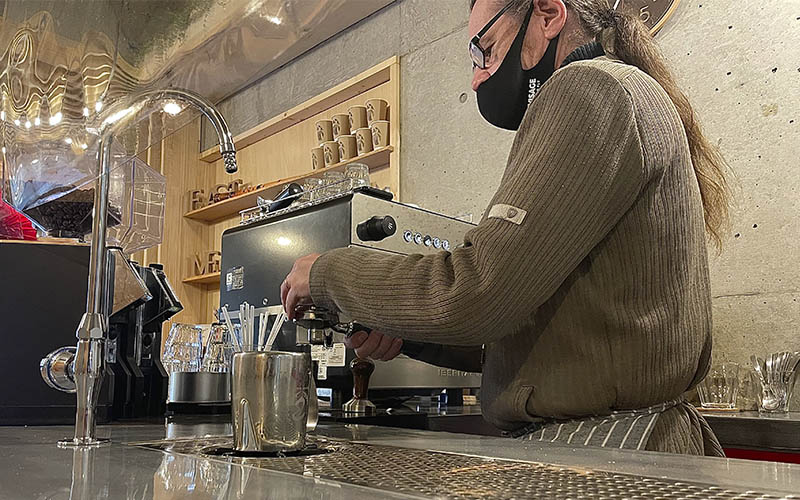 Originally, I was interested in cafes, architecture and workshops. My wife and I visited Nara several times and each time we wanted to find good coffee. After we moved to Nara, we decided to open a café in Nara and rented a space, where we can serve Melbourne style coffee.
We usually have 14-15 hours of work a day, 7 days a week. We both have different roles in the café. Basically I serve food and drink and host English conversation sessions.
In addition to the café's business, we also hold some special sessions such as craft workshops for children, coffee making sessions, English walking sessions. Currently due to the influence of COVID-19, we are minimizing running special sessions.
State of the English lesson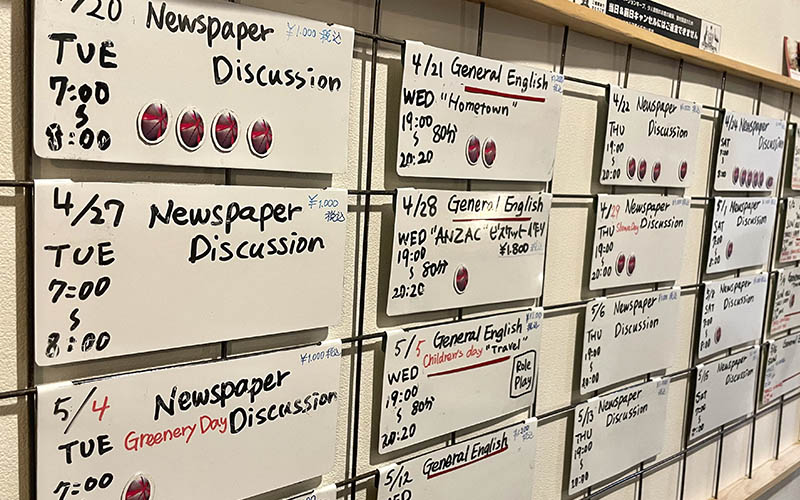 There are a variety of English classes available, depending on the participants English level. This time, we held a 7 am English conversational lesson which focused on "Newspaper Discussion / General English"!
At 7 am the participants start to gather together. We enjoy breakfast and decide which topics we are interested in discussing.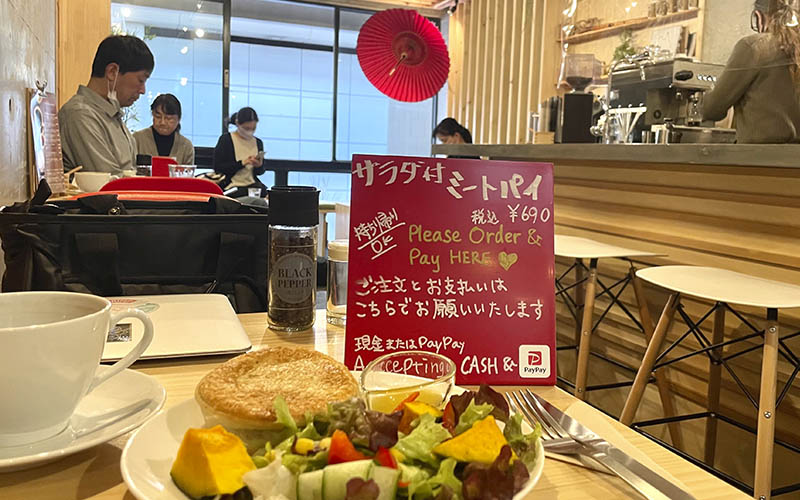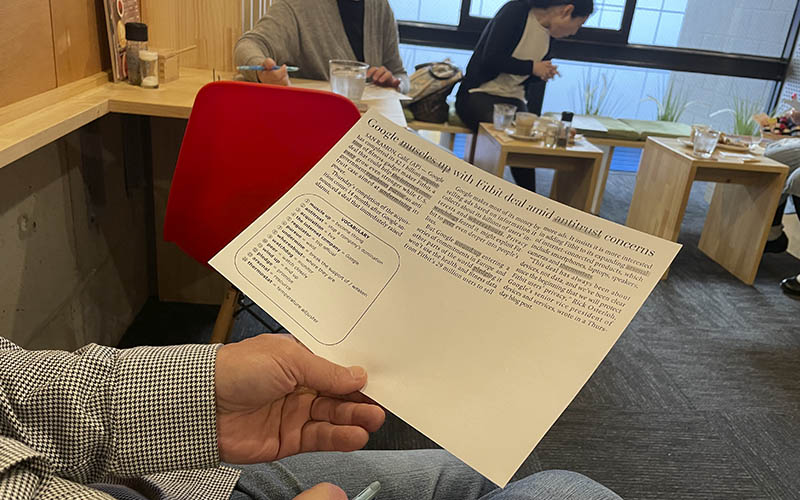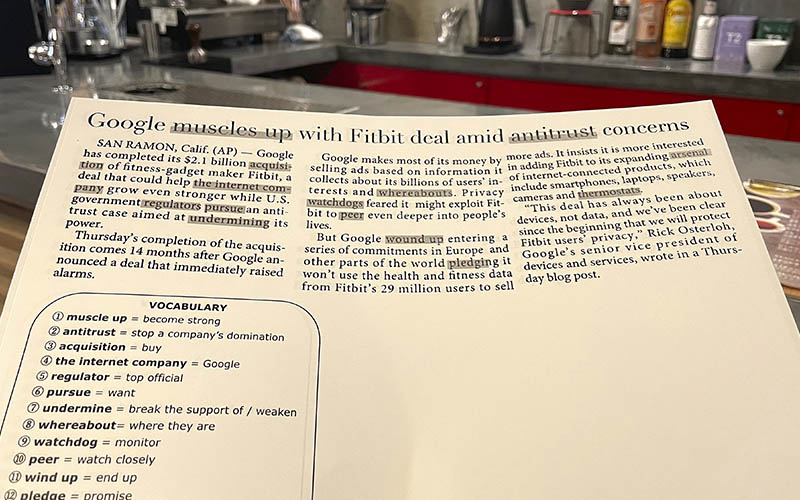 Participants read through the newspaper paragraph by paragraph, and if they do not know a word they can ask Chris. Conversations are conducted only in English, and they are asked to give summaries and themed questions. It is a relaxed environment and everyone seems to enjoy the lessons in the morning.
Responses from the participants!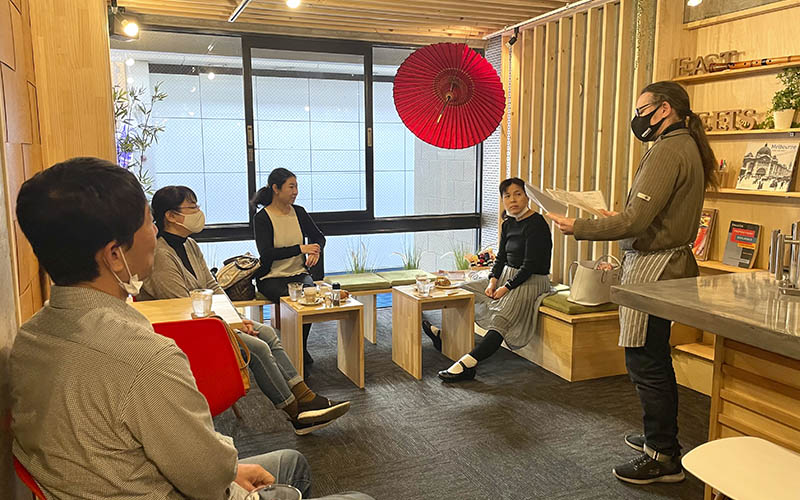 How did you discover the cafe?
- I saw a friend of mine post online about an English Conversational Lesson they had participated in.
- I saw an advert in "My Town Nara" (magazine).
- I saw signboards on my walks.
- I was approached by Chris at a store.
What motivated you to join in?
- In need to learn English because I work with overseas companies.
- I want to improve my English skills, and I support learning English at elementary school.
- To interact with overseas host families.
- I wanted a change of pace.
What do you like about the event?
- The owner is kind, and the groups are small.
- It is held early in the morning so you can use the rest of your day effectively.
- You can choose a level of English that suits you and see your English ability grow.
- I'm no longer nervous to talk to foreigners.
When you hear about "English Conversational Classes" they tend to be set courses, but at Akatombo Coffee, it seems you can join on a whim and it is open very early in the morning. The calm and comforting environment and the welcoming personality of the couple will make you want to come again! Be it for english classes or just a cup of coffee.
Is it difficult for foreigners to open a business?
Sadly the work I was doing in Australia (Design) couldn't be held in the Cafe workshop, as Japan does not have the same equipment and parts that we use in Australia and our budget was limited for buying resources. Also, my Japanese language ability has been a handicap when trying to do business overseas.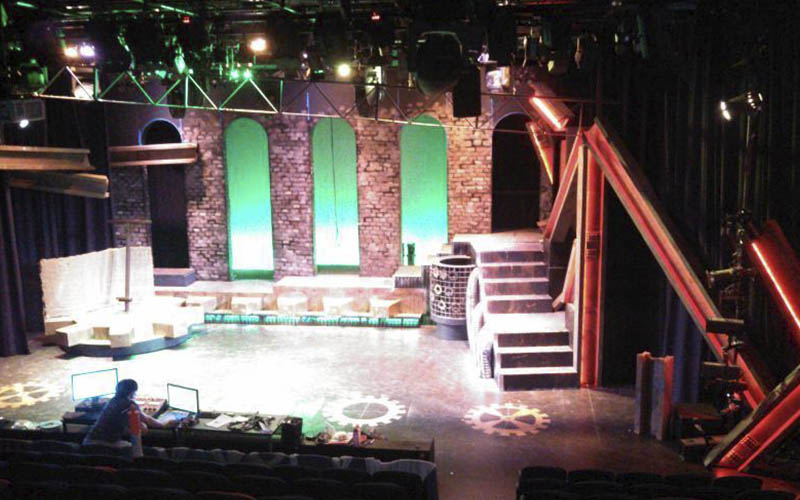 Before opening the business, we completed a business course, sponsored by Nara prefecture, held in Kashihara every month. The prefecture was very supportive and I felt that the administration was relatively kind towards us.
What challenges and issues have you faced being in such a rural area?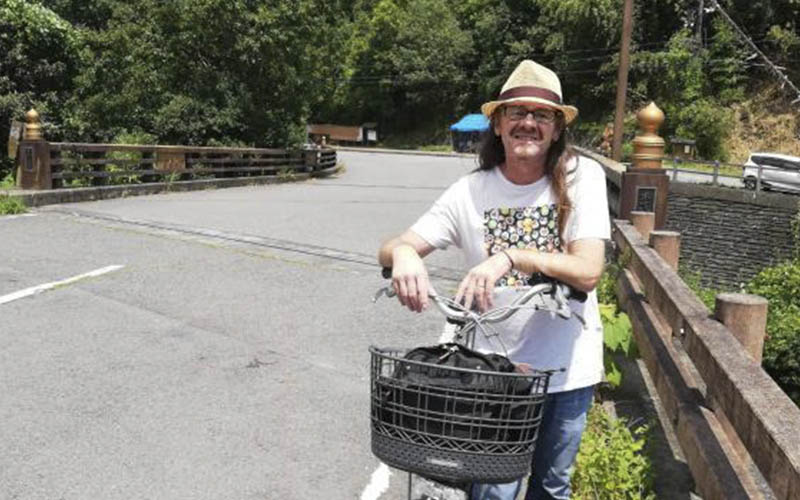 When starting something new, it is important to network with everyone you meet through the process. In my case, we made connections with the shop in the shopping district as well as those who live in the local area.
What are your future goals?
On June 16th we held the 1 year anniversary of our shop!
In the future I'd like to grow the café and conversation sessions as well as workshops and walking tours. I'd like to receive more foreign visitors, and I want them to enjoy conversation and exchange with local people in Nara.
---
That's all for today's snowmokey article.
I have visited 3 times since hearing about this new cafe having opened in Nara. I've taken part in a Latte Art experience, where I learned not only how to make delicious lattes but also expanded my English skills, even those who speak English are welcome to join and enjoy the events. Why not explore "Starting your own business" rather than entering the workforce!
Chris thank you for your time!