Japan has many natural disasters such as earthquakes and typhoons. We've had disasters that have caused significant damages in the Reiwa era (the present day era), too. The question that came up each time was how to swiftly provide information in the event of a disaster and encourage appropriate evacuation.
Problems with providing information to foreign tourists
In the past, there have been many cases where the means of providing information and evacuation routes for foreign tourists were not in place, so it has become a topic of discussion.
As one of the solutions, the Cabinet Office and five other ministries and agencies collaborated together and created the "Disaster Mitigation Points for Foreigners" poster.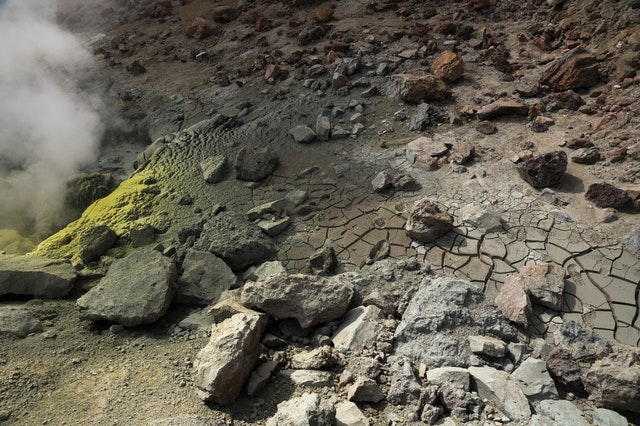 Role of "Disaster Mitigation Points for Foreigners" poster
Japan has always had many disasters and Japanese people understand what kind of things happen when a disaster strikes well, but There are some countries and regions that have almost no disasters like earthquakes or typhoons, so some people may not be able to understand what a "disaster" or "evacuation" is truly like.
Because of this, this poster first explains the disasters that can occur in Japan and the damage that can be expected in the event of a disaster, and introduces advance preparations, information confirmation, and places to evacuate in accordance to which disaster is taking place.
Disaster Management in Japan:http://www.bousai.go.jp/kyoiku/gensai/index.html
Easy Japanese version is also available
In addition to the regular Japanese version, there is also an "Easy Japanese" version of the poster which is written in simple Japanese so that foreigners can read it easily. The "Easy Japanese" version has furigana in all kanji and katakana, and is also written in simple words and expressions so that it is easy to read the text.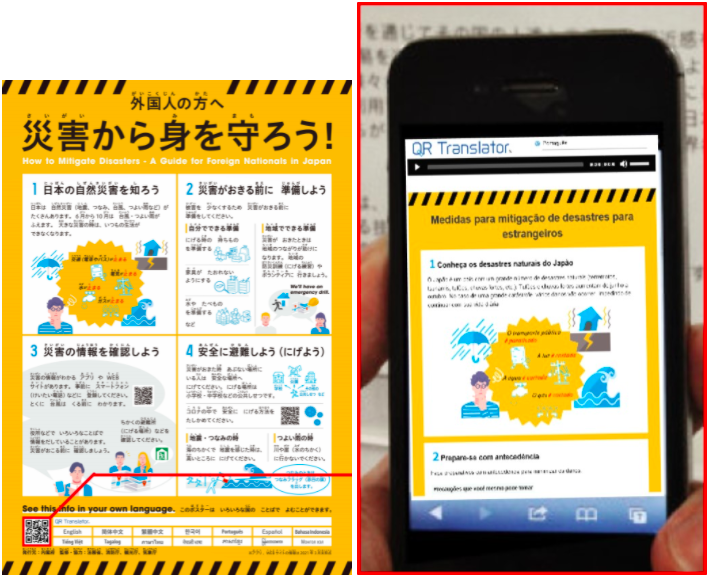 Supports 15 languages with multilingual QR code
Though the "Easy Japanese" version of the poster is written in simple Japanese, it is difficult for foreign tourists who come into contact with Japanese for the first time to understand the content. For those people, the "Disaster Mitigation Points for Foreigners" poster is available in 14 languages in addition to Japanese.
This poster is designed to be posted at hotels and tourist sites that foreign tourists visit, so people can download and print out the poster in the language they need.
Also, the Japanese version of the poster includes a QR code. You can read the contents on your smartphone in 15 languages including Japanese by scanning the code with your phone. As of June 2021, only English is supported, but Simplified Chinese, Korean, Spanish, Portuguese, Vietnamese, Thai, Indonesian, Tagalog, Nepali, Khmer, Burmese, and Mongolian are also scheduled to become available in the near future.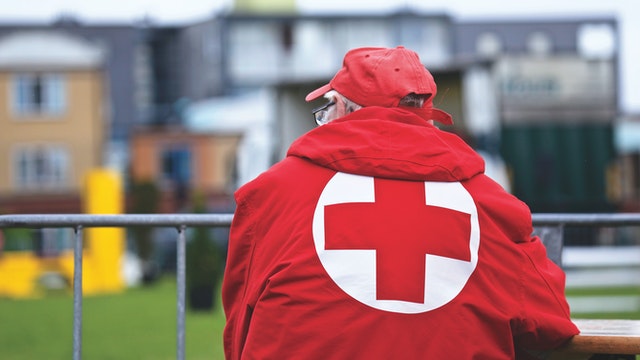 Evacuation advisory to evacuation order
In addition, the evacuation advisory in the event of a disaster was abolished from May 20, 2021 and the evacuation order was set instead, as well as the alert level was changed from four to five.
The table below shows the newly set alert level and actions that residents should take. Please note that you must be evacuated at alert level 4.
| | | | |
| --- | --- | --- | --- |
| Alert Level | Evacuation Information | Situation | Required Course of Action Residents Should Take |
| Alert Level 5 | Emergency Safety Measures | A disaster is occurring or imminent | Your life is in danger - Take Immediate action to ensure safety |
| Alert Level 4 | Evacuation Order | There is a high risk of disaster | Evacuate everyone from dangerous places |
| Alert Level 3 | Evacuation of the Elderly, Etc. | There is a risk of disaster | Elderly people must evacuate from dangerous places |
| Alert Level 2 | Heavy Rain, Flood, or Storm Surge Advisories | The weather conditions continue to get worse | Prepare for evacuation |
| Alert Level 1 | Early Warning Information | Weather conditions may get worse | Check the weather information and stay alert |
Evacuation orders will still be issued by the local governments, but it is important for each person to be aware of what action to take in accordance with the alert level.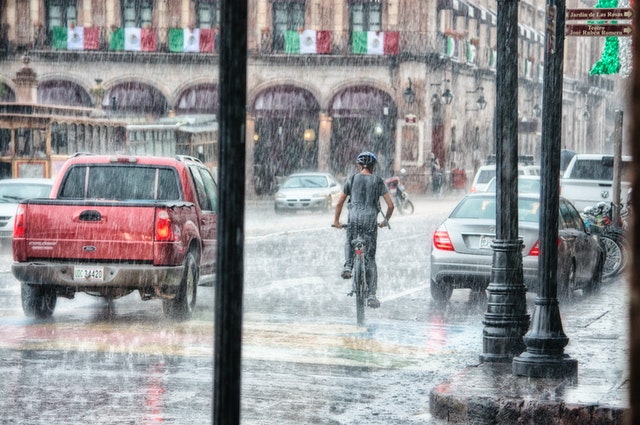 Summary
Communicating information to foreigners in the event of a disaster has always been an issue in Japan. We could say that this poster is one step forward toward improving the situation.
However, this is just a tool that is only useful when things are operating as intended. More measures need to be taken at tourist sites in order to ensure smooth evacuation, such as making a hazard map in case of a disaster in addition to the disaster mitigation poster mentioned above.