Hello! This is Chisa from the editorial department of jimomin! The other day, I had the opportunity to visit "Miyama Kayabuki no Sato" in Kyoto Prefecture, so I would like to talk about it to you all!
For those who say, "I'm indeed stressed at home, but I'm still a little afraid to go outside into the city," why not immerge yourself into Miyama's wilderness to refresh yourself?
What is Miyama Kayabuki no Sato?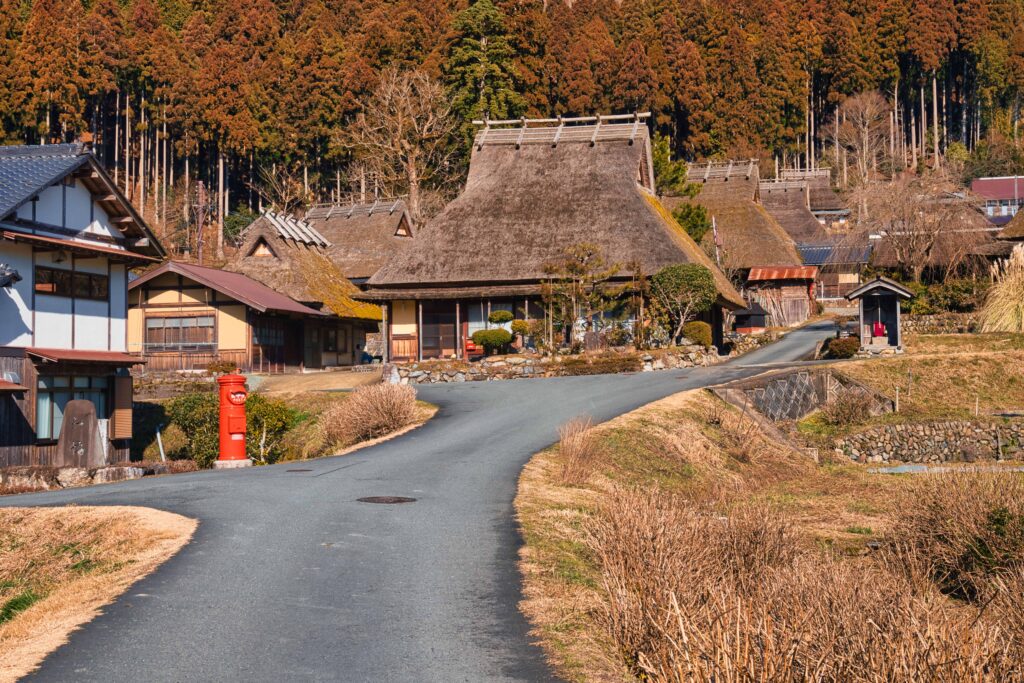 "Miyama Kayabuki no Sato" is a village characterized by houses with thatched roofs, located in the northern part of Nantan City, right in the middle of Kyoto Prefecture. Before the Coronavirus outbreak it was visited by about 300,000 tourists a year. A total "must" to check out! With the number of thatched roofs decreasing sharply from all over Japan, it was chosen as an "Important District for Preservation of Traditional Buildings" in 1993. Some of the village areas were built in the Edo period (about 230 years ago), so it is known to be a historic village as well! It takes about an hour and a half by car from Kyoto Station, or about two hours by public transportation. Today, I would like to introduce you the area of Kitamura: famous for having the highest density of thatched roofs in all Miyama Town!
What kind of place is it?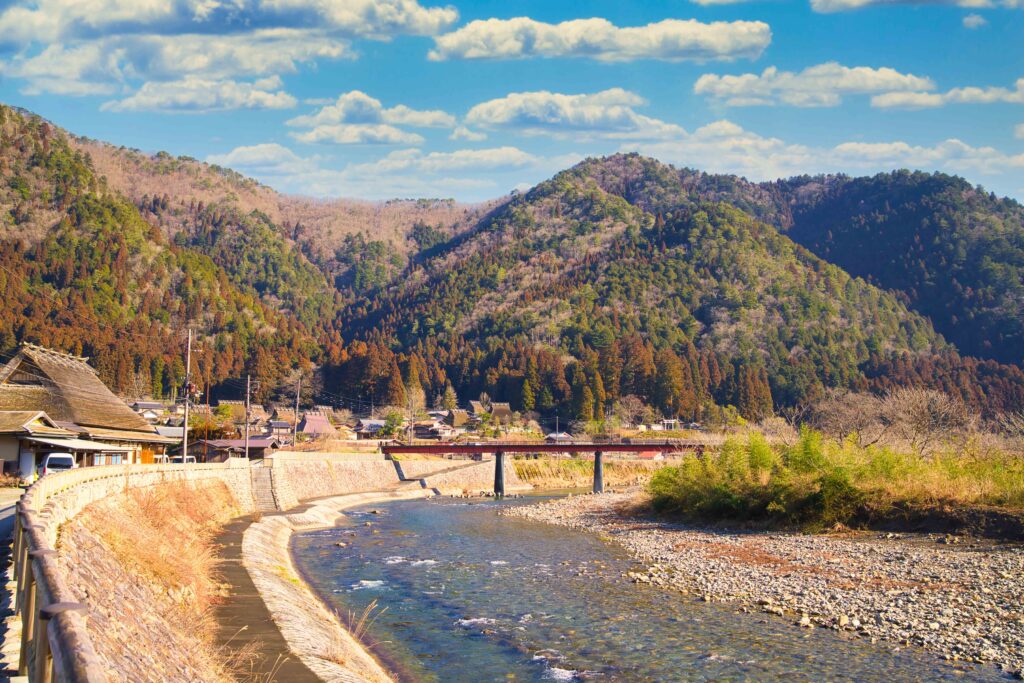 Kitamura area spreads out through the mountains of Nantan City, with the wide Yura River running beside it. Upstream the river there is the largest virgin forest in all western Japan, and since there are no factories around, the flowing water is very clear and beautiful! When I went nearby the river, its water was flowing so gently and limpidly that I could see all the way to the bottom; behind it was a landscape full of mountains and houses with thatched roofs that made me want to stare at it forever. If you go during summer, enjoy the view while putting your feet in the fresh Yura River!
On the banks of the Yura River there is a parking lot, a place to eat and a gift shop. At the restaurant "Kitamura", for example, you can enjoy delicious locally handmade soba, made with buckwheat flour cultivated directly in Miyama!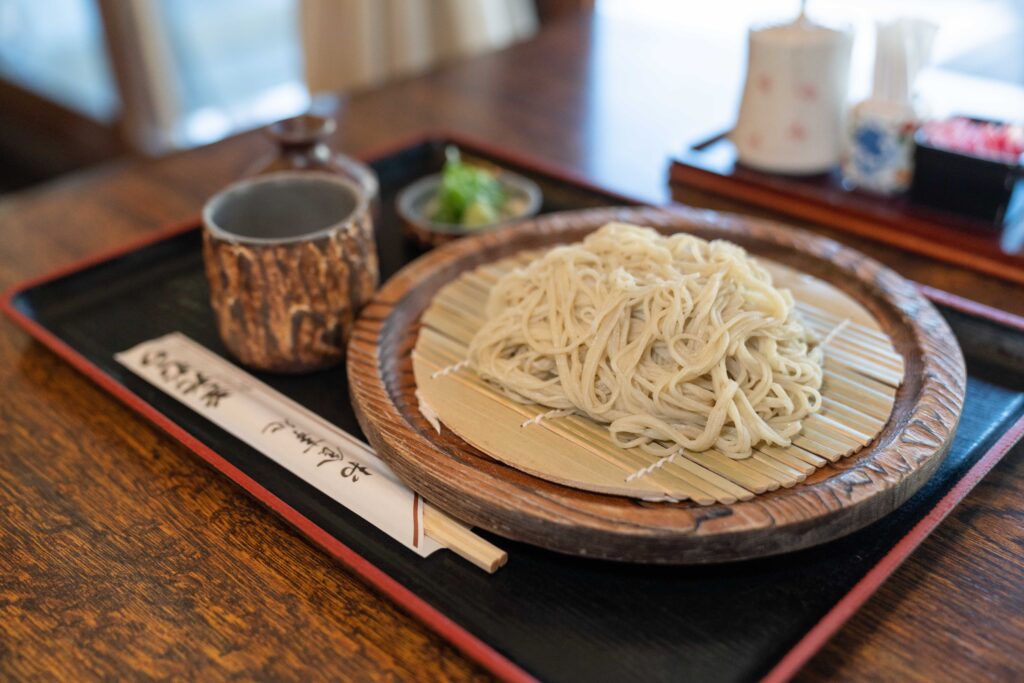 In addition, delicious dishes prepared with local ingredients such as its famous soba, or the very popular fried chicken, made with locally bred animals are very requested as well. Many people come from afar just to try them!
The village is located across the road from the restaurant area: consider the red mailbox as a landmark, climb the road, and you will see the houses with the thatched roofs. Among the 50 of them currently built in Miyama, 38 have residents despite having that characteristic.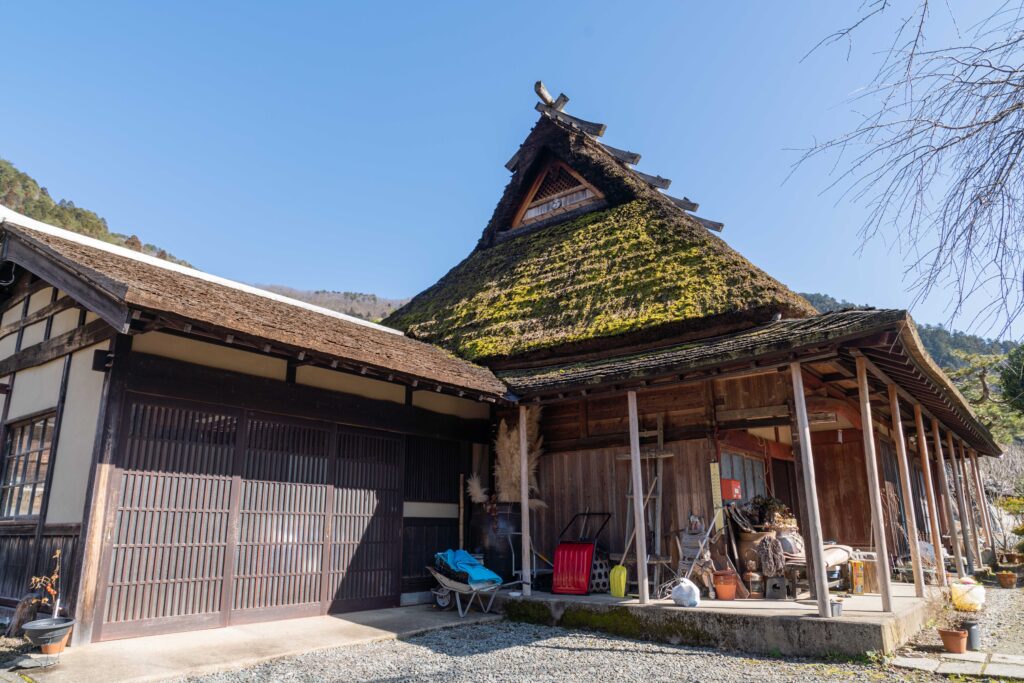 Of course, since the village is outdoors, you can visit it without any problem of being too close to other people or air ventilation, even in this period of precautions! There are also no restrictions on pets entering the village, so many people come for a walk with their cats and dogs.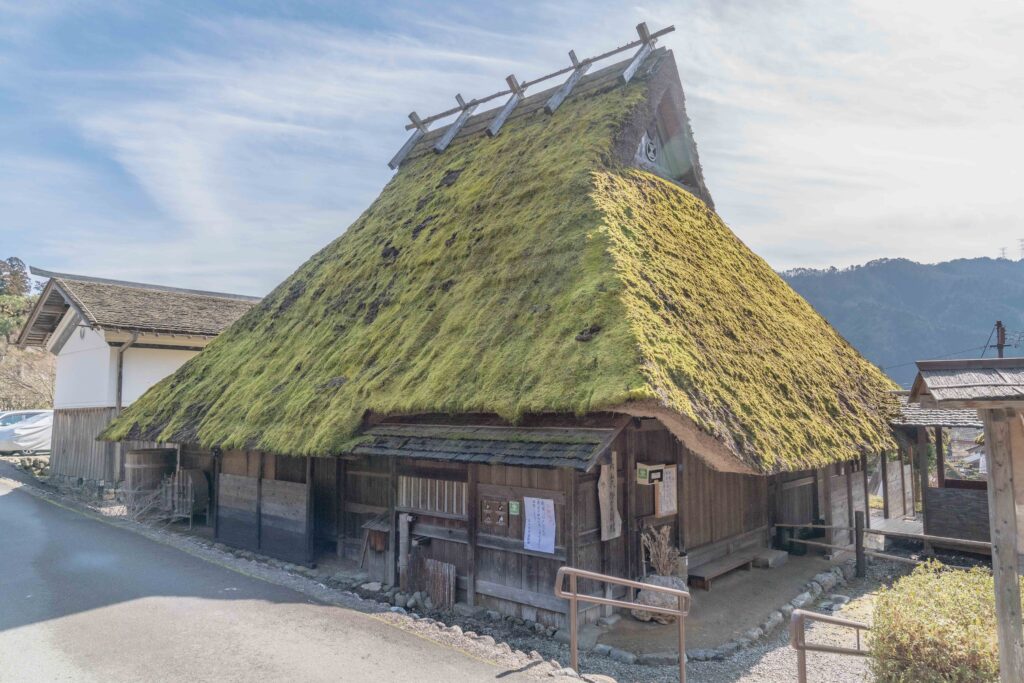 Elderly people "feel nostalgic remembering the old days"; young people "somehow feel nostalgic when coming to the countryside of their grandpas and grandmas"; foreigners "come with the idea of Japanese movies in their mind". This is the charm of Kayabuki no Sato: enjoying the visit with the sensibility each person has based on their memory or imagination, perhaps coming from old Japan tales. Various events are in fact held throughout the year, such as cherry blossoms, fire fighters water discharge performance, starry sky seen from the village and winter fireworks. If I can, next time I'd like to stay at a guest house in the village and see the beautiful starry sky from there.
What to enjoy eating, drinking and where to stay in the village
There are two cafés in the village. There are many slopes to walk along while visiting, so you'll be able to enjoy delicious sweets while admiring the surrounding nature: the perfect combination to heal your tired body. This time, I visited "Café Milan" and enjoyed a pudding made from fresh flat-reared eggs, directly brought from a local poultry farm!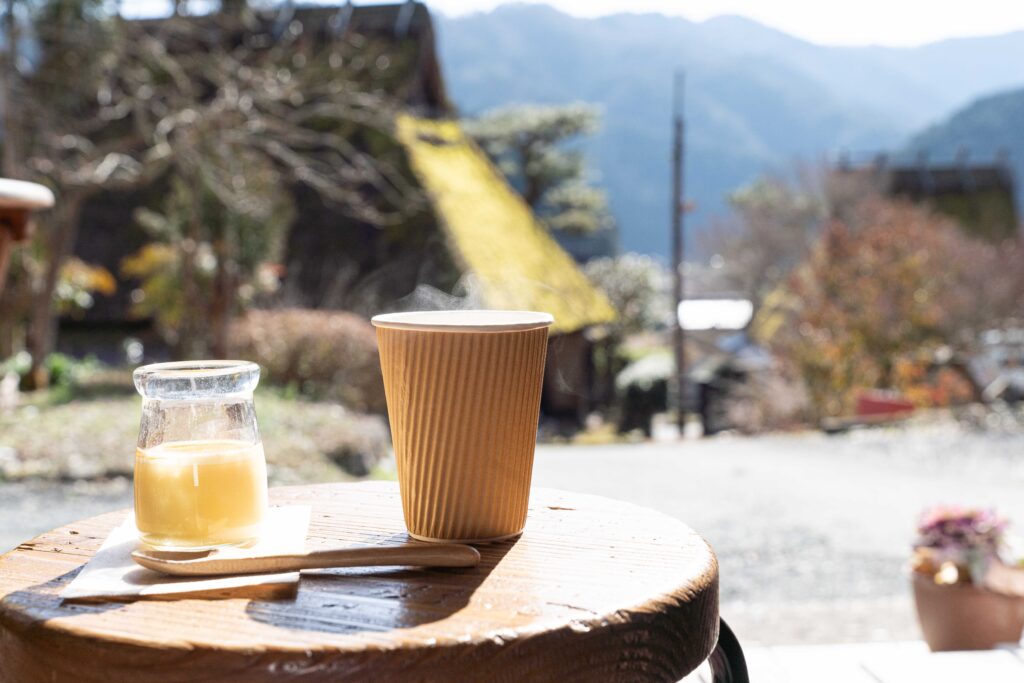 It had a very rich flavor but not too sweet: very easy to eat and totally delicious! The drinks are exceptional as well: enjoying them while looking at nature all around and being immerged in such fresh air, is something so relaxing that it would heal your body and mind. 
"Pudding", the dog of the shop, is very cute as well. If you can, don't forget to greet him! In addition, gelato (ice cream) and chiffon cakes made with milk locally produced are very popular, as much as the eggs you can buy!
Information on cafés in the village can be found in the "remarks" column below, so be sure to check information such as the business hours or regular holidays before visiting!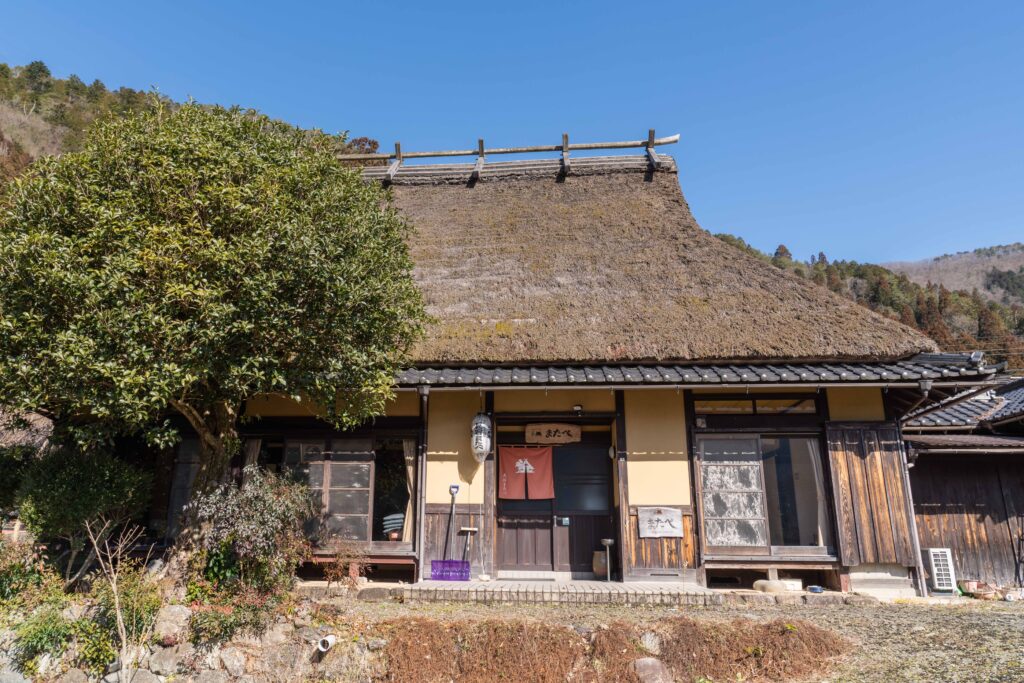 There are two guesthouses in the village, and their "unrealistic" accommodation style, proper of an old folk house atmosphere which cannot be experienced in any city, is very popular. Throughout the year, about 70% of the guests are from overseas, and they are very much looking for "encounters unique to a guest house" that cannot be experienced at hotels and inns!
Similarly, please check the remarks column below for detailed information on the facility! Please note that some facilities are closed due to the spread of the novel coronavirus pandemic!
As mentioned above, local people still live in Kayabuki no Sato, so when you go visit, please take all possible measures to avoid spreading the infection, such as respecting the social distance and following the common-sense etiquette and manners!