Setsubun was held on the 2nd of February 2021, one day earlier for the first time in 124 years. Recently, there has been a wide variety of Ehomaki available. In the supermarket this morning there was a range of fillings from seafood, meat, and fried foods all beautifully wrapped up!
But what types of ingredients were used by people in the past? Was there a meaning or rule to the type of ingredients used in Ehomaki in the beginning?
Every year on Setsubun, I became curious about this idea. In this article, I will introduce the basic style Ehomaki, as well as their meanings and the impressions made.
The Origin of Ehomaki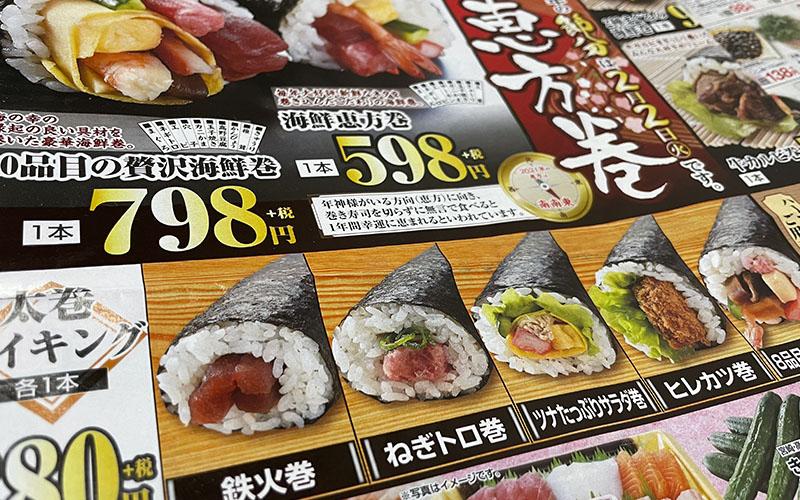 Usually, Ehomaki is a type of sushi roll eaten on February 3rd, Setsubun day. It is said to have started around the Edo - Meiji period in the Osaka flower district after they had celebrated Setsubun and prayed for a prosperous business.
Every year there is a certain direction you should face and eat the Ehomaki without cutting it, this means that if you "do not cut the edge" you will "get success (auspicion)".
This year's directions was south-southeast. So you should turn to the south-southeast direction and eat up silently!
What are the traditional ingredients of Ehomaki?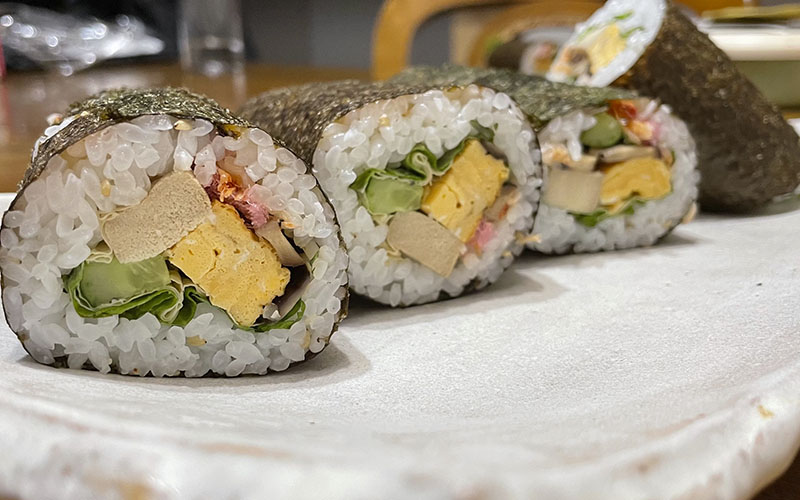 Ehomaki is generally made with seven auspicious ingredients named after the Seven Lucky Gods, as the number 7 means "to involve fortune" and "to bring fortune into the body".
Kanpyo (Dried Gourd)
Kanpyo represents a desire to "live longer" due to its long, thin shape when dried, and is indispensable as an ingredient for sushi rolls.
Shiitake mushrooms
These boiled shiitake mushrooms have been a key offering to God since the ancient times, due to their umbrella shape which resembles "jinkasa" (a type of helmet) thus offers "protection".
Datemaki (Thick omelet)
Datemaki represents wealth and fortune due to its rich yellow colour.
Unagi (Conger eel)
Eel has been used as an auspicious food for a long time. In Japanese the phrase "unagi no bori" or "eel climbing" means to advance and rise. The eel also represents longevity due to its long appearance.
Sakura Denbu
Unlike its name, sakura denbu doesn't have any cherry blossom, but is actually made using ground white fish, such as sea bream, and finished with a bright pink colour (thus looking like cherry blossom). Sea bream is a lucky charm as the word represents "happy" and the pink colour forms a gorgeous contrast to the other ingredients in Ehomaki.
Shrimp
Shrimp is also an auspicious ingredient used to match the word "medetashi" (happy/auspicious) due to its red and white colours and eyeballs. They also have a bent waist and long beard which became a symbol of good health and longevity.
Cucumber
Cucumber is said to bring "nine benefits" because of its name. The Japanese for cucumber is kyuri. "Kyu" being "Nine" and "ri" meaning "benefit".
My First Handmade Ehomaki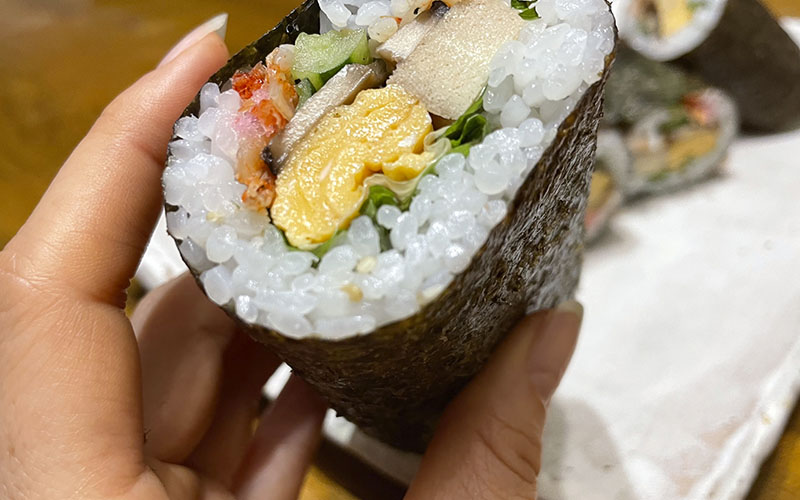 Every Setsubun I make a habit of eating Ehomaki, though I've never attempted to make my own from scratch (though I have wrapped the prepared ingredients before). This time, I challenged myself to make Ehomaki for the first time! I made it on the eve of Setsubun after work and took 2 whole hours.
What, it takes that long to make Ehomaki?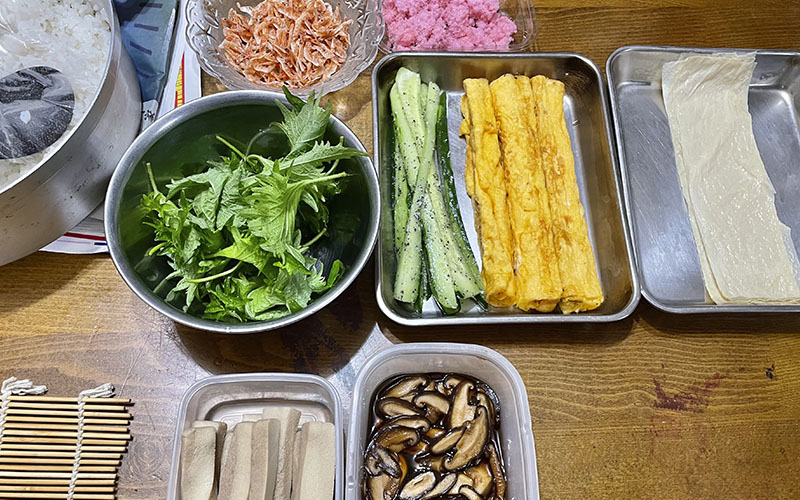 Using the traditional ingredients, we prepared by simmering the Koya tofu, making unsweetened omelet, pickled cucumbers with salted koji (rice malt), the shiitake mushrooms in a sweet and spicy sauce, the sakura denbu, shiso leaf, shrimp and yuba (tofu skin). This time, instead of kanpyo, we mixed yuba and vinegared rice with sesame seeds. I also focused on the nutritional parts.
Impressions made
Ehomaki is said to have originated in Osaka, and it's commonly made using the seven auspicious ingredients
"7" was derived from the Seven Lucky Gods, and Ehomaki was used to invite fortune from them.
Each ingredient of Ehomaki is meaningful, and perfectly seasoned and balanced. After all the people of the past were great at this!
Obviously it takes much longer to make usual hand-rolled sushi when you make the ingredients.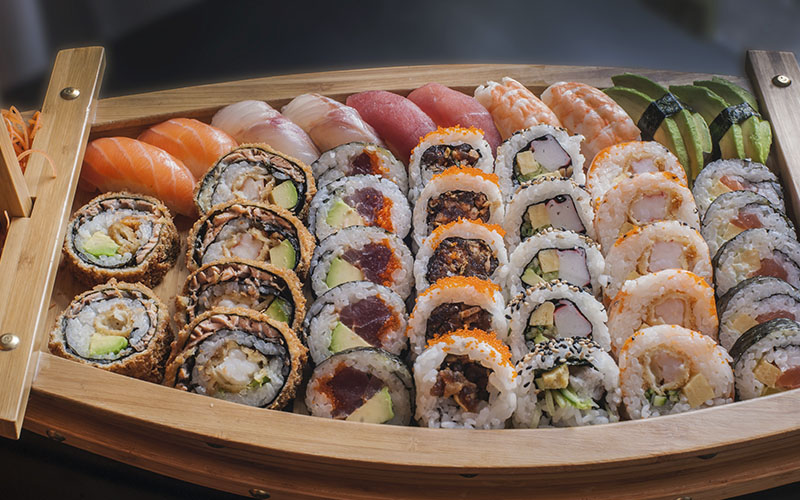 Though it took a while, the dish was delicately prepared with great care and was exceptional! Serve it alongside the salty soup kenchin-jiru, dried sardines, and kinpira gobo (BraisedBurdock) for a more traditional Japanese meal.
Please try the Ehomaki for dinner tonight!