For everyone living in Japan, here are 3 festivals to attend while you visit Kyoto! During the Spring and Summer time, you can attend the Hollyhock Festival, Gion Festival, and finally, the Kyoto Daimoji Festival. Kyoto is known throughout Japan as one of the birthplaces of Japanese culture, and these festivals are no exception, each having deep roots related to the history of Kyoto. If you're interested in understanding the history behind these festivals, please read on!
The Oldest Festival in Japan, The Hollyhock Festival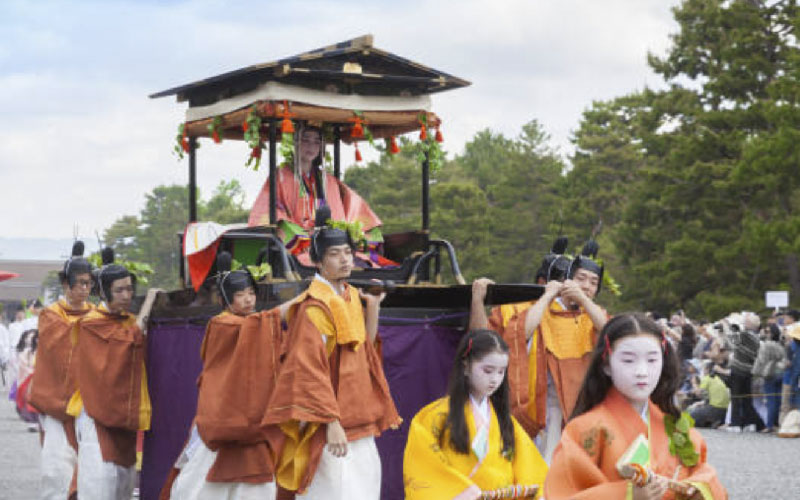 This festival first started around 1,500 years ago, in the beginning of May. Kyoto was the cultural center of Japan for a long time; especially during what was known as the Heian period. During this period Kyoto was the capital of Japan, and was also home to a luxurious court that many aristocrats lived within. In order for the aristocracy to show off their beauty and refined taste in style, starting every year on May 15th, the Heian aristocrats would pick out and wear extravagant clothes, and over 500 aristocrats would walk around in a parade to show off the gorgeous outfits they assembled.
Another event that first started during the Heian period takes place on May 3rd, where at Shimogamo shrine archers on horseback take aim and fire at targets in a display of their skill. Both of these festivals are derived from the activities the aristocracy of the Heian periods indulged themselves in. Before you see these festivals for yourself, you might be interested in trying to read one of the most famous novels of the period, The Tale of Genji, in order to familiarize yourself with the Heian time period. (It is not a easy read, however doing a bit of research on the book itself might be interesting).
🐰
「京都・年中行事」
 葵祭
2019年5月15日(水)
京都三大祭の一つ、トップをきって葵祭
京都御所~下鴨神社~上賀茂神社
京都市北区https://t.co/dCwlDwXChG pic.twitter.com/2xUCg8eljd

— ✿「風 Ⅱ」✿ (@kimagasenohaha) May 14, 2019
"An annual event in Kyoto "AOI Festival" on 15th May 2019. One of the  The three grand festivals in Kyoto. From Kyoto Imperial Palace, Shimogamo Shrine to Kamigamo Shrine..."
One of the Biggest Festivals in Japan, The Gion Festival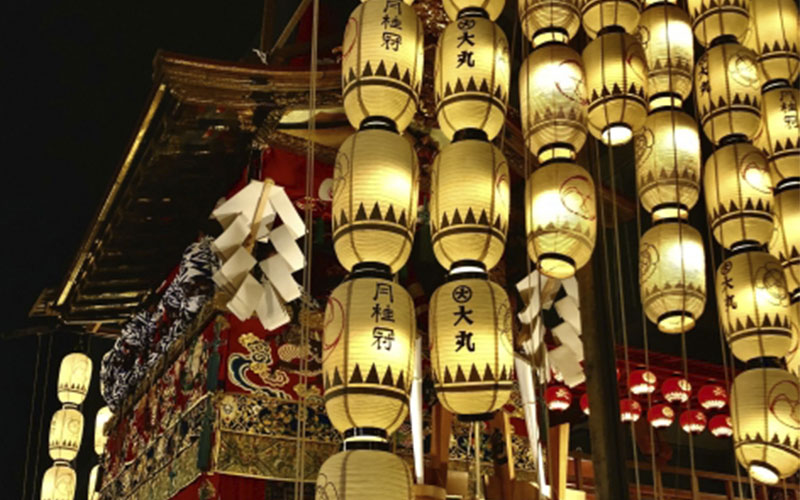 The Hollyhock is known as a festival for the aristocracy, but Gion festival was a festival made for the common people. Every year starting on the evening of July 14th is celebrated with festival floats lining up the streets, with rows of lanterns on full display, and various bands playing traditional Japanese music into the night; you can practically feel the energy throughout the streets. Beautiful ornaments line the floats like artwork, each showcasing elegant Japanese designs. You can go on top of some of the floats and buy a special treat called "Chimaki", a cake wrapped in bamboo leaves, and can spend the late hours of the day celebrating with the crowd of people gathered around the festival floats.
This goes on until July 17th, when the floats are paraded around Kyoto, with a gigantic 25 meter tall float being the main focus of the parade. Gion festival is actually a  month long, starting on July first, and during the month of July you can see smaller floats and traditional parasols decorating the city.
京都夏の風物詩、祇園祭。
祇園祭って疫病除けの神事として始まったお祭りなので、中止にはなってほしくないなぁ。
それまでに収まってくれればいいんだけど。 pic.twitter.com/IabSsirIWr

— うさだぬ (@usalica) April 14, 2020
"Gion Festival is a summer characteristic of Kyoto. It has started as a shinto ritual for epidemic exclusion, so I don't want it to be cancelled..."
A Summer Speciality, The Daimoji Festival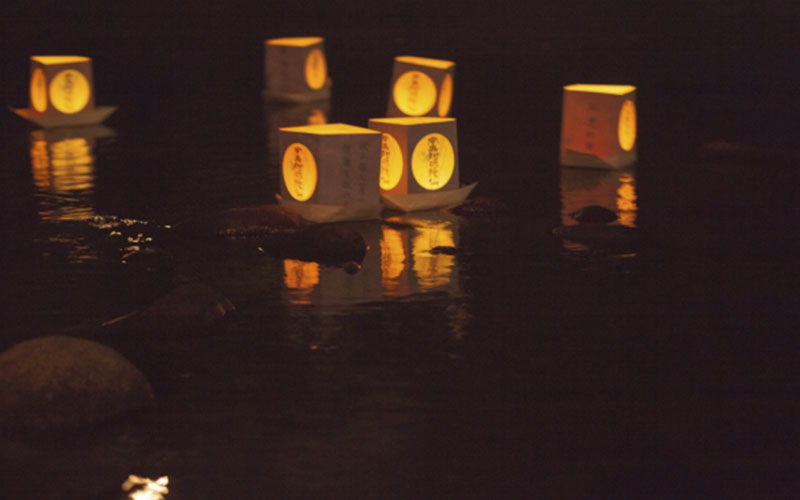 You might not necessarily describe this event as a festival, but for any Japanese person If you ask them about a big character that gets lit on fire, the first thing they'll think of is this event. In ancient times, when peoples came back home from a holiday called "Obon" where they visit the graves of their dead relatives, they would light a small fire in front of their homes to signal that they had come back "from the land of the dead". Every year on the evening of August 16th this tradition is carried out in the event known as Daimoji. Kyoto is surrounded by 5 giant mountains, each denoted by a specific character. One of the mountains has a kanji pictograph of a gate, another has the word "mysterious" on it, another has a pictograph of a boat, another one has the character for a bird, and two of them are denoted with the character for big. These are referred to as Daimoji, and Hidari Daimoji, or Left Daimoji. Long bonfires are lit on these characters, bringing them to life. It makes for a enchanting view you can only ever see in Japan.
https://t.co/dcB8UaEJgc
今年の京都五山送り火は開催されるのか問い合わせてみたところ、「開催する方向で検討しているがまだ正式決定はしていない。もし開催するとしても、例年通りの形では難しいだろう」とのこと。

— 黒糖 (@tabinidetaina) May 29, 2020
"As I contacted wether the event will be held or not, they said "it's not officially decided yet but we're thinking about holding the event. It should be difficult to hold as the same way as we do every year."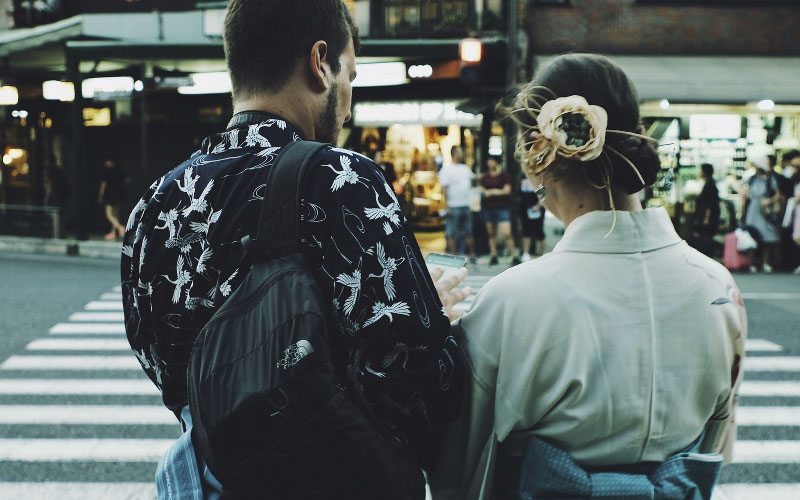 This summer due to the Corona virus most of these events are sadly not being held, but it should still be possible to see the Daimoji fire this upcoming August 16th.
Part of the fun about festivals is being able to explain their origin to other people. Many Japanese people are shy, but please ask them anyway; they'll gladly be able to tell you about their history! Anyone is free to participate in the festivals, and there are a ton of other festivals besides the ones mentioned here that you can enjoy. If you ever get the chance, go and see one for yourself!